Bus and rail fares may rise again as Translink faces huge loss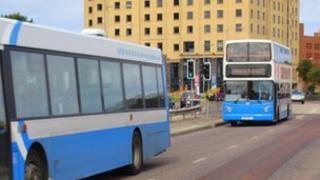 Significant rises in rail and bus fares could be on the cards because Translink is expected to head towards a multi-million pound loss in the coming years.
A week ago the company announced fares would go up by an average of 3%.
Now the full extent of the company's financial position has been revealed by the Department for Regional Development (DRD).
Translink's next three-year plan reveals the company expects to move into the red after this year.
The DRD had expected the publicly-owned company to prepare a plan which would allow it to break even financially across the group which includes NI Railways, Metro and Ulsterbus.
The DRD analysis of Translink's three-year corporate plan seen by the BBC says Translink "faces long-term funding problems."
"The scale of the problem in the later two years of the plan, as projected by Translink, is significant," it said.
Deficit expected
The report anticipates Translink will make a profit of £2m this year (2012-2013) but will then start to make significant losses with a deficit of £11.6m expected in 2013-2014, and £10.5m the following year (2014-15).
These losses are expected even after assuming the department would provide additional in-year funding for rail services of £5m and £10m in the respective loss-making years.
The report warns further price rises could be on the cards: "To achieve a balanced position in 2013-14 could mean significant fare increases beyond inflation, re-examination of Translink services and potentially other departmental funded schemes."
The DRD said the projected deficits reflect a combination of factors such as increasing fuel and wage costs, a fall in school transport income due to falling pupil numbers and the increasing cost of concessionary fares.
According to the report, the level of departmental funding to Translink has been significantly cut in the current budget.
The report says: "To achieve a balanced position in 2013-14 could mean significant fare increases beyond inflation."
A Translink spokesperson said: "Per capita funding for public transport from the public purse is lower in NI than any other region on these Islands yet service provision is higher.
"We will be working with the DRD to understand the future public transport policy in light of this reduced funding.
"Our current operational model is efficient and has made over £12m of savings over the last few years."
According to its latest accounts, Translink's chief executive Catherine Mason earned £199,000 last year - making her one of the most highly-paid heads of any public utility in Northern Ireland.