Actress Fiona Shaw brings poetry peace camp to Derry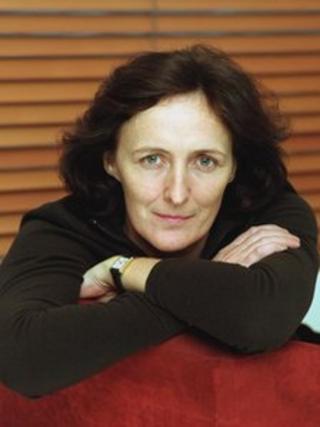 Irish actress Fiona Shaw, who played Harry Potter's aunt in the film series, will visit Londonderry on Monday as part of the UK peace camp project.
She will invite members of the public to record a reading of their favourite love poem at the Verbal Arts Centre.
The peace camp project was commissioned by London 2012 in partnership with Derry City of Culture 2013.
The camps will be erected in eight UK coastal locations in July. Two of them will be in Northern Ireland.
They include Mussenden Temple at Downhill in County Londonderry and White Park Bay in County Antrim.
The "glowing encampments" appear simultaneously at each remote location across four consecutive nights, from 19-22 July.
The project has been described as a "poignant exploration of love poetry and a celebration of the extraordinary variety and beauty" of the UK coastline.
Accents
The Cork-born actress is leading the project alongside award-winning theatre director Deborah Warner.
The pair want to create "an audible portrait of the nation", comprised of love poems recorded by members of the public from across Great Britain and Northern Ireland.
The project will celebrate the UK's languages, dialects and accents as well as its "rich poetic tradition".
Ms Shaw said was looking forward to hearing about the love poems that meant a lot to members of the public.
"I really don't want peace camp to be about my own personal taste, so what I'm really longing to hear is their voices and that they will come forward to read a poem and record it for posterity and make their mark on peace camp and the city of culture project."
The star of stage and screen studied at the Royal Academy of Dramatic Art (RADA) in London and her acting career has spanned more than three decades.
In 1989, she starred in the Oscar-winning film My Left Foot, alongside Daniel Day Lewis.
More recently, she appeared in the US TV series, True Blood.