Lord Alderdice to head new Ardoyne parade group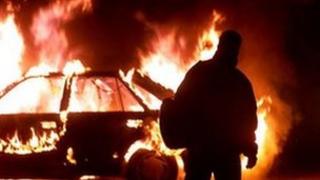 The former speaker of the Northern Ireland Assembly, Lord Alderdice, has been asked to lead a new initiative aimed at resolving parade disputes in the Ardoyne area of north Belfast.
It is part of ongoing attempts to avoid a repetition of the violence seen in recent years during the marching season.
Sixteen police officers were injured on the Twelfth of July last year.
The previous year, the violence lasted four days.
This year, there are hopes - however small - that trouble might be avoided.
Lord Alderdice is involved in the initiative, along with the Holy Cross priest Father Gary Donegan and the former Presbyterian Moderator, the Reverend Norman Hamilton.
He admits there is no guarantee of success.
Dr Hamilton said: "The Parades Commission have asked us to have some conversations with local community leaders to see if we can reach some sort of accord, particularly around the parading issues in the area.
"They are conversations - they are not negotiations, they are not mediation. They are conversations to see if an accord can be reached."
The group has already started work, and the dialogue is expected to intensify the closer it gets to the start of the marching season.
The Rev Hamilton said: "We are all aware that these are areas of great deprivation and of great need, and it would be in everyone's interests to have a community at ease with itself. So that's why we're having conversations.
"I hope we're able to build a common heart for the welfare of all the people in the whole area."
In 2010, the cost of policing parades and disorder in Northern Ireland over four days in July was £2.2m.