Translink fares rise causing concern: MLA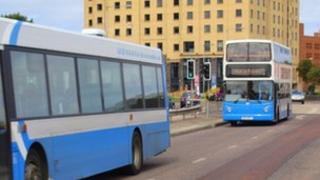 Proposed fare increases on bus and rail routes across NI are causing "huge concern," a Stormont MLA has said.
Translink said the increases would mean an average rise of 3%. However, it said there would be no increase in prepaid Smartlink prices.
Pat Doherty, deputy chair of the Regional Development Committee, said the company would be asked for more details of its three-year plan.
The increases, Translink's first since June 2010, come in at the end of April.
"We intend to talk to Translink to see if they can bring about the savings by other means," the Sinn Fein MLA said.
Speaking on BBC's Good Morning Ulster programme, Mr Doherty said his committee intended to ask Translink for a "more thoroughgoing argument," for the increases.
"We think there is potentially another way and we want to examine that," he said.
Translink spokesman Ciaran Rogan said passengers had a choice of not paying extra because Smartlink prices would be unchanged.
"Choice'
"We want people to move away from cash and move on to Smartlink and that's why Smartlink fares aren't changing," he said.
"People have the choice on buses not to pay any more."
Mr Rogan said fuel costs were a major reason for the increase with a rise of £3m expected for the next year.
"So, it's balancing costs, its balancing passenger numbers, it's balancing government funding, which is also under pressure over the next couple of years, and we're coming out with a fares increase that effectively plugs the gap."
Green Party MLA Steven Agnew said the fares increase was "the last thing people need in already difficult financial times".
"It's hard to blame Translink completely because... so they'll have a choice between increasing fares and cutting services," he said.
"There has been an long term under-investment in our public transport infrastructure and services.
"The government... does provide public transport services. So, ultimately, the responsibility for this has to rest with the minister, Danny Kennedy, and his executive colleagues who fail to put public transport as a priority."
Previously, a Translink official told the Department of Regional Development committee that while the company had managed to keep fares at "modest levels", any increase was regrettable and would have an impact on users.