Northern Ireland leaders in India trade mission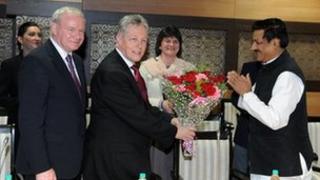 The first and deputy first ministers and the economy minister are in India for a three-day trade mission.
During their visit Peter Robinson, Martin McGuinness and Arlene Foster will visit Mumbai and New Delhi.
They will lead 24 local companies on Invest Northern Ireland's latest business mission to the country and launch the ni2012 tourism project.
Mr Robinson said that the country "offers tremendous opportunities for Northern Ireland".
"Much of our business innovation already touches India on a daily basis - from the tyre pressures on their cars to the medical testing equipment in their hospitals or the processing of aggregate stone to build their roads.
"Our challenge is to grow this trade and I am confident that this week's trade mission will deliver new opportunities for growth as well as highlight Northern Ireland's investment in India to support market access in the wider South Asian region," he said.
Mr McGuinness added: "There is an important opportunity for Indian businesses to gain a better understanding of why we are becoming a location of choice for major international investments.
"Equally, the trade mission provides their companies with the opportunity to engage with our businesses to access the innovative products we produce and the services we can provide."
Before going to India the ministers were on a similar mission to the United Arab Emirates.