Belfast City Cemetery war memorial may move over vandalism threat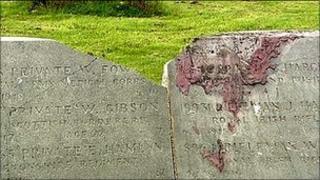 A World War One memorial in Belfast City Cemetery may be moved to reduce the risk of it being attacked by vandals.
The Commonwealth War Graves Commission memorial at the Falls Road cemetery was damaged in an attack in August 2011.
The War Graves Commission has proposed that the screen wall memorial, which contains the names of 296 dead soldiers, be removed and a new one erected in a different part of the cemetery.
Belfast City Council has provisionally agreed to the proposal.
The screen wall memorial dates from the late 1920s and the War Graves Commission has written to the council about its future.
In its letter, it said the memorial was "the constant subject of attack by vandals over the years".
It put forward three options to the council for the memorial, two of which would involve repairing the existing wall or designing a new one to replace the existing structure.
However, the commission said its preferred option was to "remove the screen wall and erect a new screen wall at a more suitable location down in the service plot area" of the cemetery.
The matter is under consideration by the council's parks and leisure committee, which has provisionally decided to move the memorial wall, subject to further information and legal agreements.