Chinese visit to Northern Ireland raises questions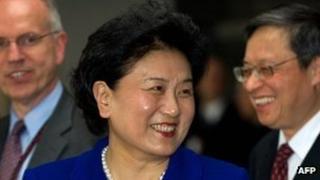 BBC Northern Ireland Political Reporter Stephen Walker is standing in for Mark Devenport
Over the last 20 years, Northern Ireland has played host to presidents and prime ministers.
We have been spoilt in many ways with world leaders coming here regularly to see how political life has changed.
It is then perhaps understandable if people get a little blasé about the latest arrival of a foreign politician.
However, there are high hopes at Stormont that Liu Yandong's trip will be different and our executive ministers want this visit to be more than just handshakes and photo opportunities.
One of the highest ranking politicians in China's Communist party, she is a member of the Politburo and is poised to become one of the most powerful figures in Chinese politics.
Her arrival has been regarded in political and business circles as a "coup".
She is seen by some observers as a reformer and appears to be in favour of increasing China's contacts with the outside world.
This could help Northern Ireland and may dovetail nicely with attempts by the Executive to forge closer trade relations with China.
Dr Vicky Kell, from Invest NI, said she hoped the visit would create business for Northern Ireland.
A number of local firms already trade with China and many feel closer political ties could help to bring jobs here.
This autumn, Peter Robinson and Martin McGuinness hope to travel to Beijing - and they will use this visit to discuss their own trip.
Liu Yandong's visit will also have an educational focus and she will spend some time with students and lecturers and talk about educational links between China and Northern Ireland.
She is the latest Chinese politician to arrive on the island of Ireland and her trip underlines how Chinese relations with the UK and Ireland have changed.
In February, Chinese Vice President Xi Jinping came on a three-day visit to the Republic with a 150-strong Chinese delegation of business leaders and government officials.
With Irish trade with China worth an estimated 8bn euros a year it was understandable that officials in Dublin were keen to welcome the Chinese vice president.
It is also easy to see why politicians at Stormont want a slice of that economic action.
Forced labour camps
However, there are words of caution and hopes in some quarters that the economy will not be the only subject of conversation.
Patrick Corrigan, Amnesty International's Northern Ireland programme director, wants local politicians to use this latest visit to highlight China's record on human rights.
He said: "China's human rights record is atrocious. It is the world's number one executioner.
"A minimum of 190,000 people are in 'administrative detention', many of them in forced labour camps.
"This is a matter of values. We must not trade away human rights concerns."
North Antrim MLA Jim Allister also added his concerns.
He said: "China has an abysmal record of human rights abuse, both against dissenting political activists and those wishing to exercise religious freedom."
Peter Robinson and Martin McGuinness have high hopes for the visit - it will require diplomatic skills.
They are being urged to use the next 48 hours to talk trade but also talk tough.
You can follow Stephen on Twitter at StepWalkTV