12-year-old among seven people arrested after parade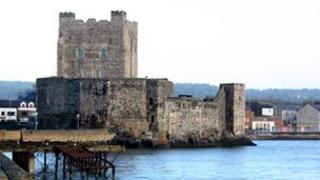 A 12-year-old-boy was among seven people arrested during trouble that broke out after an Apprentice Boys parade in Carrickfergus.
The parade took place on Easter Monday, but details of the arrests have just emerged.
The police said "upwards of 150 people" were involved in public disorder during which a policewoman was punched.
The trouble broke out close to Carrickfergus Castle.
A Police Service of Northern Ireland (PSNI) spokesman said officers were initially called to the area to deal with a traffic collision at about 15:00 BST on Monday.
A 17-year-old boy was knocked down on Marine Highway and remains in hospital.
Assault
The PSNI spokesman said disorder then "broke out in several areas" and a number of people were arrested close to the harbour car park.
The 12-year-old boy was arrested over disorderly behaviour in Albert Road.
He was later released to his mother and a report is to be sent to the Youth Diversion Officer.
Two men, aged 17 and 18, are due to appear in court next month charged with disorderly behaviour.
The 18-year-old man has also been charged with assault on police.
The DUP's David Hilditch, who is a member of the Apprentice Boys, said the disorder had "absolutely nothing to do with the parade itself".
'Havoc'
He said the event had been well organised and passed off peacefully.
However, the East Antrim MLA said a crowd had gathered in the town and the trouble started when the parade was over.
"A large number of youths had come from various other parts of Northern Ireland and really caused havoc in the area of the Castle green," he said.
He blamed "young people fuelled with drink" for the disorder.
Mr Hilditch said it was an example of something which has happened "down through the years" in several towns in Northern Ireland during the Easter holidays.
"I know the police in Carrickfergus will be looking at future events, as to what other ways they can handle certain days when large crowds, particularly of young people, are expected to arrive by train and public transport".