Top Chinese politician Liu Yandong arrives in Northern Ireland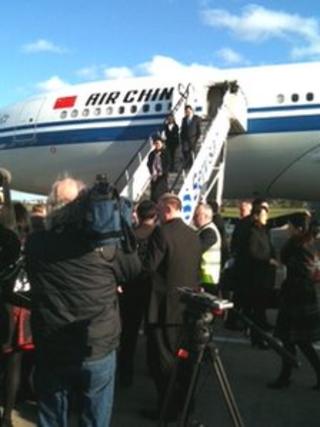 The highest ranking female politician in China's Communist Party has arrived in Northern Ireland for an official visit.
Liu Yandong is the only woman to occupy one of the 25 seats on the Chinese Communist Party's politburo.
She has met First Minister Peter Robinson and Deputy First Minister Martin McGuinness.
Ms Yandong also attended a dinner at Stormont's Parliament Buildings.
She will be in Northern Ireland for three days and it is understood she is being accompanied by eight Chinese ministers.
Ms Liu is a state councillor, one of the few women in a senior position in the government.
This autumn Mr Robinson and Mr McGuinness hope to travel to Beijing and they will use this visit to discuss their own trip.
They welcomed her visit on Thursday night.
"Our relationship with China has steadily enhanced over recent years and this is bringing benefit for all our communities," Peter Robinson said.
"Invest Northern Ireland now has an office in Shanghai and this is helping to foster trade links between us, and when Madam Liu visits both our universities, we will see a further development in the links between our higher education institutions.
"We welcome our friendship with the People's Republic of China and trust that the Chinese delegation will have an informative and enjoyable visit.
"I trust that this will be the start of many visits between our governments, institutions and citizens."
Mr McGuinness said both he and Mr Robinson were looking forward to "discussing areas of mutual interest with Madam Liu ahead of our proposed visit to China later this year".
Protestors have called on Mr Robinson and Mr McGuinness to raise China's human rights record with Ms Yandong during her visit.