Titanic plans to transform Belfast's cityscape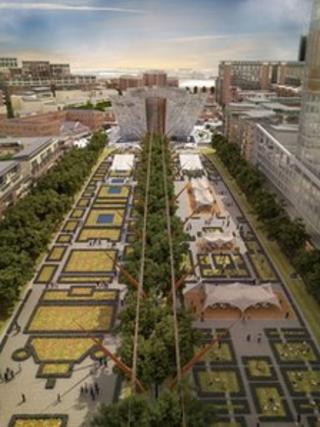 One of the companies behind the Titanic Belfast building has ambitious plans to transform the area around the new tourist attraction into a vibrant, public space.
London-based research and design practice CivicArts came up with the idea behind the £77m building, which opened to the public on Saturday.
The project is just part of a multi-million pound concept which includes a mix of shops, bars, restaurants, offices, leisure facilities and residential accomodation at Titanic Quarter.
Phase 2 of the Titanic Quarter project comprises 298,300 sq m (3,210,979 sq ft) of development space and is Northern Ireland's largest ever planning application.
However, in the past number of years the area has been badly affected by the economic downturn.
Developers issued legal proceedings against a number of people who failed to complete the purchase of Titanic Quarter apartments which had been sold off plans at the height of property boom.
'Outdoor rooms'
CivicArts came up with the concept of Titanic Belfast, while Todd Architects were the lead consultants on the project.
CivicArts specialises in mixed-use urban regeneration schemes and is currently working on projects on four continents.
The company's design director Mark Evans said they have now been working on the Titanic Quarter plans for more than seven years.
He confirmed that outline planning permission for much of the original design concept has already been passed.
It includes a new public park on the slipway in front of the building.
The planned park takes its layout and inspiration from the orginal design of the ship's first-class quarters and features what the company described as "outdoor rooms".
'Café Society'
Mr Evans said it was important to get the balance right between meeting the needs of the residents in the area and creating a recreational space for the public.
He said the space around attractions like Titanic Belfast can become "dead zones" in the evenings and the park would help to bring vibrancy and activity to the area after hours.
The owner of the firm, Eric R Kuhne, is an advocate of the 'Café Society' concept and has decribed cities as the "ultimate marketplace of ideas".
His firm contends that it is "not enough to simply build open public spaces".
"They must actively support the pageantry of civic life that is played out in the shops, restaurants, pubs, gardens and galleries that surround them".