Cashing in on the Titanic brand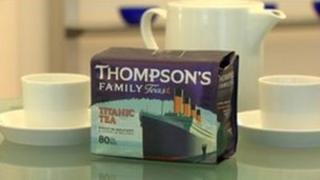 The mere mention of the word "Titanic" is enough to conjure up an array of images, many of them tragic.
One hundred years on from the terrible events of that night, the Titanic brand has become a money spinner and it is hoped a worldwide attraction for people coming to Northern Ireland.
There was a public fascination with the ship even before it sank to the bottom of the Atlantic with huge loss of life.
Over the decades the brand has not always been applied with the degree of sensitivity that the tragedy probably demanded.
A current Titanic exhibition at the Ulster Folk and Transport Museum at Cultra has a range of items on display depicting the famous ship.
Everything from drinks promotions and ice cube holders, to chocolate bars, household ornaments and other merchandise that falls squarely into the category of Titanic tat.
Titanic iconography even appeared on the front page of the children's comic, The Beano.
But time has altered public perceptions of the folklore around the story of the ship.
Tragedy has been overtaken by heroism and romance.
Terry Corr, creative director with Belfast marketing company Navigator Blue, said Titanic is now a worldwide brand.
'Innovation'
He said for a long time people were reluctant to talk about the ship, with Belfast people in particular growing up with the disaster hanging over them.
"This was despite the fact that the local workforce at that time were probably the best at the world at using the skills and technology available to build the ship" said Mr Corr.
"The innovation was fantastic, it kind of made Harland and Wolff the Apple computers of their day."
"Titanic is something we can really claim as our own," he added. "As a brand it's international and as such it is probably the only real global brand we have in Northern Ireland."
With the centenary of the sinking nearly upon us, Titanic is everywhere from our television screens to the shop front windows.
There are no complaints from the businesses benefiting from the sales, be it T-shirts, books or bottles of Titanic Irish Whisky.
'Taste'
Even the Europa Hotel in Belfast has renamed its presidential suite after the ship, such is the attraction to foreign tourists.
"Prior to this being called the Titanic suite it was the presidential suite named after Bill and Hilary Clinton who both stayed in the room," said General Manager James McGinn.
"However the Titanic brand is much stronger because it has more meaning and much more appeal world wide to visitors".
Like it or loathe it, there is no getting away from the Titanic brand, at least not this year.
Whether the vast array of products, including Titanic teabags and crisps which are currently hitting the market place, can survive long-term is probably a question of taste.
You can see Mervyn's report on BBC Newsline at 1830 BST.