Going the extra mile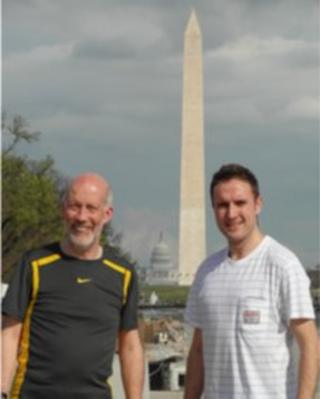 This lunch-time I am running /walking/hobbling the Stormont annual Sport Relief mile organised by my colleague Tara Mills, together with assorted hacks and MLAs.
In previous years, Justice Minister David Ford has been the undisputed champion of the event but he is absent.
This year, he is in Washington DC for the delayed St Patrick's Day festivities.
However, together with East Belfast MLA Chris Lyttle, he ran the Sport Relief mile through the streets of DC and here is photographic evidence to prove it.
Update: All over and done with at Stormont with the SDLP's Conall McDevitt taking first place, closely followed by his colleague Mark H. Durkan.
I trailed in 7th well behind Gareth Gordon and in the slip stream of the DUP's Mervyn Storey who took the prize for fastest competitor wearing a suit and ordinary shoes.
Congratulations to all involved and good luck to all of those intending to put their running shoes on this weekend.