It was the way Frank Carson told them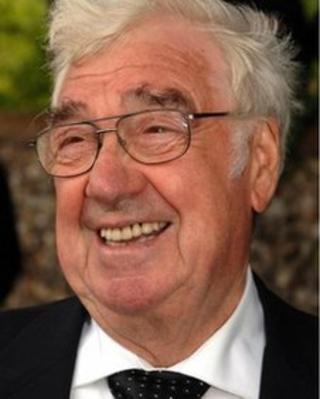 The congregation at Frank Carson's funeral service looked like the cast from one of his jokes - priests, politicians, Protestants, Catholics and even a few mothers-in-law.
Mourners cried and laughed, as they remembered the 85-year-old comedian and his many jokes.
One kept coming up again and again - "What's the difference between my wife and a terrorist? You can negotiate with a terrorist."
Not everyone could get away with jokes like that in Belfast, but Frank Carson did. It was the way he told them.
His style was best summed up by another famous son of Belfast, the broadcaster Eamonn Holmes.
Standing outside the funeral, he said: "Belfast was infamous for machine-gun fire through the years. With Frank Carson, it took on a whole new meaning, it was just rapid attack jokes - rat-a-tat-tat."
Although he is the face of Sky News, Eamonn Holmes readily agreed to a BBC interview, saying with a smile: "Like Frank, I'm cross-community."
One of Frank Carson's final wishes was that there should be a Protestant element to his funeral as well as a Catholic requiem mass.
As soon as the Catholic service at St Patrick's Church in Belfast was over, his coffin was taken to the nearby Protestant Cathedral for a blessing.
Former snooker world champion Dennis Taylor was not surprised by the cross-community gesture - "He always was a great ambassador for Northern Ireland."
Politicians from every political party in Belfast were there, including Sinn Fein's Martin McGuinness. There were also footballers, boxers, comedians, actors and the singer Dana.
All kinds of everything, you might say.
Tribute
Everyone smiled when they saw the funeral hearse. What was the odd-shaped wreath inside? It was a cracker.
Yes, there was a floral tribute in the shape of a cracker, in memory of his famous catchphrase.
Frank Carson packed a lot into his 85 years. He was an electrician, a plasterer and a soldier before becoming an entertainer, and helping to raise millions of pounds for charity.
At his funeral, mourners were told about his Belfast childhood in the late 1920s and how he was known as Snowball due to the flaxen colour of his hair.
He was always a devout Catholic and Bishop Edward Daly, who conducted the funeral mass, was a close friend. He telephoned him shortly before he died, and they prayed together over the phone.
Bishop Daly said: "He sent me a telegram when I was appointed bishop in 1974, saying 'congratulations on reaching top of the bill'."
Anyone who met Frank Carson will tell you that he had a joke for every occasion, and he always liked to have the final word.
How appropriate then that he should once say this: "I already have my headstone arranged. It will read 'Frank Carson, Rest in Peace.
"And then beneath it will be inscribed - quiet, isn't it?"
You can follow Mark Simpson on TWITTER @BBCMarkSimpson