Robinson targets 'negative media' for 'talking Northern Ireland down'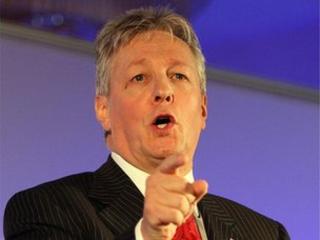 The Northern Ireland media's "daily diet of negativity" and "trumpeting of bad news" is damaging the economy, the first minister has claimed.
Peter Robinson launched a scathing attack on journalists for "talking the Northern Ireland economy down".
"The daily diet of negativity is deeply damaging to our economic recovery," he said.
But Seamus Dooley of the National Union of Journalists (NUJ) dismissed the attack as "naive and disingenuous".
Mr Robinson told the Northern Ireland Assembly Business Trust at Stormont on Thursday that business was the real victim of bad news stories.
"It is not every columnist or economist that is responsible, but there are enough voices of despair to undermine confidence and damage recovery.
"I find it perverse that job losses are reported with greater drama and enthusiasm than the new jobs created.
"While bad news is trumpeted on front pages or at the top of broadcast bulletins, good news struggles to be seen or heard and, when it is, it is often presented with cynicism and caution clouds every silver lining."
The first minister said he accepted the media's right to report bad economic news, but argued that they had a responsibility to give the full picture.
"Too often the media are the purveyors of doom and gloom. In turn, despondency became a self-fulfilling prophecy," he said.
However, Mr Dooley of the NUJ said the problem was "not that the media is serving a diet of bad news but that those responsible for delivering the news are being denied the resources to do so."
He added: "There is no doubt that there is a significant volume of bad news emanating from Northern Ireland.
"But the first minister is naive if he imagines that the media can ignore bad news or simply wish it away by adopting a Pollyanna like approach to inconvenient truths.
"Mr Robinson cannot expect the media to ignore bad news or to deliberately distort the impact of bad news by seeking to offset the impact of job losses with a positive spin.
"Niether can the media ignore the impact of the undermining of public services in Northern Ireland or pretend that services are not being cut. "
During his statement, the first minister set out a series of positive stories from Northern Ireland.
He said:
Northern Ireland's unemployment rate is the lowest of any country in the United Kingdom.
Northern Ireland consistently out performs other UK regions in national exams at age 16 & 18.
In 2011 at £12.4bn, even with exports to the Republic of Ireland falling, the value of manufactured goods we sold outside Northern Ireland recovered to virtually their pre-recession level and sales to Great Britain hit a new record.
Belfast has the third highest level of GVA in the United Kingdom, behind only London and Edinburgh.
Research and Development, which is crucial to the development of our economy, increased by 6% last year to £344m.
After London, Belfast is the most attractive city in the UK for Foreign Direct Investment, particularly in technology and financial services.
Belfast is now among the top 10 cities globally for financial technology investments ahead of Dublin, Glasgow, Toronto and even Bangalore!
Mr Robinson said many of Northern Ireland's companies were world leaders in their field. These include Seagate, Randox, Heartsine, BE Aerospace and Wrightbus.