DNA detail at the centre of Massereene murders case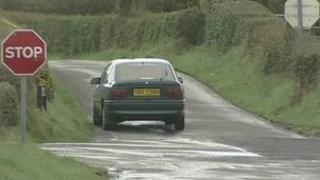 The failed attempt to burn the getaway car left something for the forensics team with something to get their teeth into.
Much of the evidence in the Massereene murders case was gleaned from it.
Inside the partially burned vehicle, investigators found the finger tip from a latex glove with DNA from Colin Duffy on it.
Dr Mark Perlin, a DNA expert from America, using a computer based statistical analysis system said traces found on the car's seatbelt were nearly six trillion times more likely to have come from Colin Duffy than anyone else.
A DNA swab taken from a mobile phone found in the car was over six billion times more likely to be from his co-accused Brian Shivers than anyone else.
Shivers' DNA was also detected on a matchstick found outside the vehicle.
However, this wasn't enough to convince the judge they were both involved in the murders.
The Forensic Science Northern Ireland laboratories near Carrickfergus is where evidence is brought for analysis before being laid before the courts.
Peter Barker who is a senior forensic scientist at the labs said the evidence can be wide-ranging.
"When we arrive at the scene of a crime or an incident we first of all establish what evidence there is in terms of supporting the investigation," he said.
"This can range from large visual types such as bloodstain patterns to fingerprints and foot prints, right through to the very small amounts of trace evidence such as fibres, particles of glass or paint and traces of drugs or DNA."
And it was DNA, the human chemical code unique to each individual, that lay at the heart of this prosecution case.
Evidence that led to one defendant being convicted while the other was acquitted.
The forensic teams stress that they are independent of the police, pointing out that the evidence they gather is available to everyone during any trial.
"We value our independence from any investigating authority," they said.
"We see ourselves as working to provide assistance to an investigation, but ultimately everything we do is to assist the court, both the defence and prosecution advocates, the judge and jury.
"To help them understand the evidence that's recovered and how that'll be contextualised in terms of the events that actually transpired."
As you would expect, the forensic science staff are no strangers to the scenes of carnage that transpired during the conflict in Northern Ireland.
The organisation, which is an agency within the Department of Justice, is still in "temporary" accommodation, 20 years after a massive IRA bomb blasted their headquarters near Belvoir estate in south Belfast.