Helm social housing group criticised in report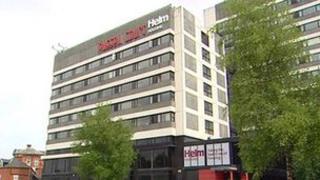 Northern Ireland's biggest social housing organisation has faced strong criticism in a new inspection report.
Helm Housing Association was the subject of a report carried out by the Department of Social Development.
Helm, which builds public housing for the Stormont executive, spent £11m on land that cannot be developed the way the housing association intended.
The study looked at £88m worth of business carried out over three years.
It said there had been significant failure at senior management level and the association did not stick to its own procedures.
However, it said there was no evidence of illegal or fraudulent behaviour.
Out of five senior members of staff only one remains in post. Three senior staff, including Helm's chief executive, have left the organisation and one more is currently suspended.
Some of the departures are thought to have been for health reasons.
The department said it intended recouping £700,000 of public money from the association.
Social Development Minister Nelson McCausland said: "The report highlights a number of significant failures of control and breaches of compliance across all business areas, which were subject to the inspection, indicating significant and substantial failings by the senior management team of the association and a failure of the board to effect an adequate challenge function to the decision-making process within the association.
"This statement is qualified by the inspection team's awareness that, on occasions, the board had either not been fully briefed by the senior management team or had been misinformed by them."
He added: "My primary concern in achieving a long-term solution for the problems we have encountered in Helm is that the security of tenure and the quality of service being provided to Helm tenants is safeguarded.
"I am pleased with the response to date of the Helm board in making progress towards these objectives."
Greg Lomax, interim chief executive, Helm Housing said: "A dedicated review team has been established and is currently implementing a comprehensive improvement programme to resolve the issues identified in DSD's report.
"We have also appointed a compliance officer to review all of the organisation's procedures and policies to ensure industry 'best practice' is adhered to throughout the entire organisation at all times."
Mr Lomax said Helm was also reviewing its management structures and said significant changes to the senior management team had already been made.
"The organisation's board of management is also being reviewed," he added.
"Once all board members are confirmed, a training programme will be implemented to assist the board in fulfilling its role and responsibilities.
"Helm Housing has an obligation to manage and maintain the homes of its tenants and the organisation will continue to fulfil this responsibility."