Recruitment for independent members to PCSPs begins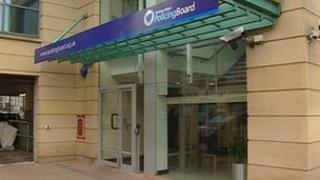 The Policing Board is seeking to appoint 237 independent members to the new Policing and Community Safety Partnerships (PCSPs).
They will be established in each of the 26 council areas.
PCSPs were established under the Justice Act (Northern Ireland) 2011 to help make communities safer.
They will merge the functions currently undertaken by District Policing Partnerships (DPPs) and Community Safety Partnerships (CSPs).
Board chair Brian Rea said: "PCSPs aim to make a real difference to the community in which they are based, making people feel safer.
"Independent PCSP members will play an important role in maintaining public confidence in policing and ensuring that the voices of local people are heard on a range of issues."
He said independent members of PCSPs will work with their elected colleagues, the statutory and voluntary sector and the community to identify and develop local solutions to policing and community safety issues.
"We are looking for people who can demonstrate an interest in their local community and have an understanding of community safety or community policing issues, either through their employment or voluntary activity," he said.
"People applying for these roles should live in, or be able to show they have a close connection with, the council area the PCSP is in."
Justice Minister David Ford MLA said: "PCSPs will provide local people with an opportunity to address issues in their own area and, ultimately, will help build confidence in the justice system.
"My hope for these partnerships is that they make a difference on the ground by delivering for local people."
Information on how to apply can be found on the board's website.
Completed application forms must be returned by 12:00 GMT on 30 January.