Shot fired through window of west Belfast home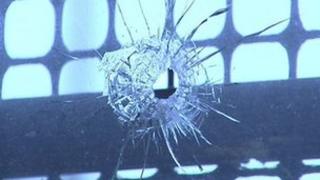 A shot has been fired through the window of a house in west Belfast in the early hours of Monday morning.
Two women and two children were in the house in Distillery Street at the time but no one was hurt.
Damage to the home was reported on Monday morning and police found a hole in the window and bullet inside.
The women in the house are Filipino nationals and police are investigating several lines of inquiry.
They had heard a loud bang between 00:00 GMT and 01:00 GMT but assumed it to be fireworks outside.
Maribel Dixon said it is not the first time her home has been targeted.
"I really don't have any idea at all, maybe a racist attack," she said.
"I can't explain because it has happened four times already.
"I'm in a state of shock now because I can't really think about why they are doing this to us."
Police have appealed for anyone with information about the gun attack to contact them.