High winds delay transfer of tanker's oil cargo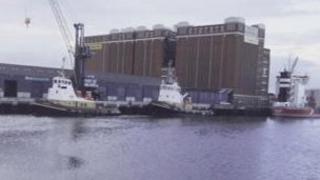 The transfer of 54,000 tonnes of oil from a damaged oil tanker in Belfast Lough has been further delayed.
The Genmar Companion has been anchored off the Copeland Islands after a crack developed in its upper deck on 16 December.
The oil transfer, which could take between 24 and 36 hours, had been due to take place on Monday but was put back because of high winds.
Plans to complete the transfer on Tuesday are also in doubt.
The ship will enter Belfast harbour for repairs as soon as the oil is taken off the vessel.
Transfer of the cargo was originally delayed from Saturday.
The tanker was sailing from Rotterdam to New York when its deck cracked.
The Maritime and Coastguard Agency said preparations for the transfer of the oil to the BW Seine had been under way for several days.
The agency said stringent safeguards would be observed throughout the operation to ensure the safety of the crew, the environment and other vessels in the area.
Hugh Shaw, the Secretary of State's representative for maritime salvage and intervention, says the cargo is safe within the tanks.
"The Genmar Companion has been sitting safely anchored since before Christmas, and the situation hasn't worsened in any way," he said.
"The cargo tanks are not affected, there is no cracking near the tanks."