Northern Ireland construction firms look further afield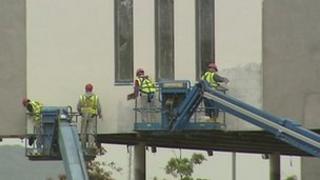 Construction firms from Northern Ireland, badly hit by the downturn in the Irish Republic, are finding new business further afield.
Export figures released this week show that sales to the Republic from Northern Ireland firms nosedived 16%, or £229m, over the last year.
Worst affected were those companies in the construction sector, not just building firms, but all the related services and manufacturing companies that make construction products.
But exports from Northern Ireland to other markets grew. Sales to Great Britain were up 4.4% (£312m) to £7.3bn.
And an export focus is what's helping many Northern Ireland construction-related firms survive the worst recession in living memory.
Firms like Patton, of Ballymena, have redeployed sales effort and staff to multiple projects throughout Britain and beyond.
The company, with a turnover of about £160m and 350 employees, has a large retail fit-out division. But it has also developed a specialist line in heritage projects.
It took a management role in the fit-out of the Liverpool Museum, which officially opened at the beginning of December.
And it will start work soon on the new National Football Museum in Manchester.
Managing Director Neil Patton said the environment remained "very challenging" but his core team were still onboard and "willing to travel" to find the work.
Patton will celebrate its centenary next year, and the family-run firm is determined to maintain its scale of operations so it can compete for big projects in Ireland - like the £28m Belfast Metropolitan College it recently completed - when such schemes return.
Relative newcomers, Premier Electrics, have swapped Irish business for German.
The County Londonderry-based firm has a head office in Bellaghy, but also a satellite operation in Munich and one to follow in London.
Boss Mark Scullion said they realised the Irish market was going to dry up and having won a contract with Primark in Bremen they used that as a springboard to greater success.
The company's turnover has increased 50% in the last year to £27m.
Premier, and many other construction firms, are taking advantage of new assistance from Invest NI.
The agency offers translation help and procurement advice in different markets.
It has recently hired a key individual in London with experience of the Olympic project to help construction firms there.
Overall, Invest NI point to the £2.5bn construction contributed to the local economy last year and 30,000 plus people it employs.
It's far off the boom times, but thanks to business elsewhere, it isn't bust either.