Thousands expected at Belfast Beer and Cider Festival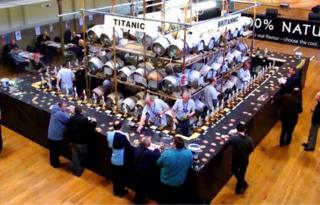 What do an Orkney Skullsplitter, a Ginger Tosser and a Farmer's Blonde have in common?
Although they may sound like the components of a very bad joke, they are in fact three of the drinks on offer at the Belfast Beer and Cider Festival this weekend.
I became the envy of the newsroom when I was asked to pop along to the event - and rather smugly strolled to the Ulster Hall on Bedford Street.
Along with the unmistakeable smell of hops and barley, the most striking thing about the festival is the sheer size of the bar.
With 97 beers, 14 ciders and four perries on offer - it really isn't for the faint hearted, so enter at your peril.
"This is our 10th time here," said organiser Philip Hernberg.
"Last time we had more than 3,000 people here over the three days.
"We have different ales from all across the UK, including for the first time one from the Ards Brewing Company, which just started a few months ago."
An upsurge in micro-breweries across Northern Ireland in recent years, means there is a strong local presence at this year's event.
Ards Brewing Company's Ballyblack Stout joins a selection of beers from Hilden, Whitewater, and College Green.
'No chance'
Davy Uprichard is another home-grown producer, but he prefers apples and pears to wheat and barley.
"We started off making Tempted Cider about three years ago," explained the Lisburn businessman.
"It is nice to come to a festival, where people appreciate a bit of quality and slightly different flavours, instead of the normal mass produced market."
There was outrage at last year's festival when its cider bar ran dry. But David insists there's "absolutely no chance" of a drought this time around.
"I have five or six thousands litres if needs be," he added.
Not content with simply hearing about the goods on offer, I decided have a taste.
The organic Hebden's Wheat was a personal favourite, but I passed up a chance to finish off my glass of Otley's Oxymoron. Brewed with German Carafa malt and five different hops, it was a little on the strong side for my delicate palate.
Having said that, beer connoisseurs are bound to appreciate it more than a novice like me.
For those of you who prefer a glass of red to a pint of Northern Ireland's finest, then the Belfast Beer and Cider Festival probably isn't the best place to spend this weekend.
Nonetheless Philip is confident of its success - and promises everyone will be on their best behaviour.
"You will actually find the majority of people who drink real ale are well behaved on the way home from the pub and definitely on the way home from this festival," he added.