Music and lyrics: Politics walk-on part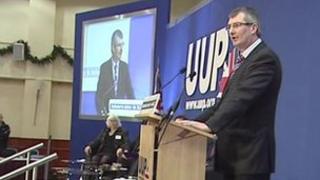 What has the seminal Manchester band the Stone Roses got to do with the SDLP, except for the fact they are both planning a comeback?
And for that matter what has the Canadian Indie band Arcade Fire got to do with the Ulster Unionist Party?
The answer lies behind the scenes at their party conferences where rock music is increasingly used to herald the arrival of leaders for their big set-piece speeches.
The Arcade Fire's 'Ready To Start' was the tune of choice for the Ulster Unionist Party recently to the amusement of political blogger Alan Meban.
"The very first line is 'businessmen drink my blood', he said. "Is that the economic policy of the Ulster Unionist Party?
"There's usually somebody behind the scenes who has spent a long time figuring out what guitar riff they shall play as their leader majestically enters the hall and yet we can barely hear what the music is, you can never hear the lyrics, you can just hear under the roar of applause this strain of music but somebody has spent ages trying to figure out what that music is and choosing it very carefully."
One of those people is Ruairi O'Kane, former director of communications for the SDLP, who decided the Stone Roses' 'This Is The One' was the perfect soundtrack for the entrance of former leader Mark Durkan.
"They do say politics is show business for ugly people and given now that party conferences are broadcast live on television we like to do our bit to try to make them as entertaining as possible," he said.
The Bard of Barking, Billy Bragg, knows more about political pop than most.
"I think politicians desperately want to be hip, " he said.
"I've been working in this job a long, long time and I never met a politician who didn't want to be a rock star and it's sad.
"I mean, what do the Stone Roses have to do with SDLP policies? And very often politicians get it wrong, the famous one being Ronald Reagan taking 'Born In The USA' by Bruce Springsteen, which is actually almost an anti-American song and just hearing the chorus and not bothering to look at the lyrics.
"The last time I was at (the Labour) party conference the Prime Minister came on to 'A Little Less Conversation', which I've always taken to be an inducement to sh******, rather than political discourse.
"I don't think the 'action' Elvis is talking about is setting up day care centres for children and having a progressive policy towards the European Union."
Bragging rights
'A Little Less Conversation' was also used by the Ulster Unionists for Tom Elliot's first speech as party leader in 2010.
But Alan Meban said that wasn't a very good idea either.
"We'd just had Trevor Ringland, Paula Bradshaw and Harry Hamilton all leaving the party very disillusioned and there we had one of the verses which goes 'C'mon baby I'm tired of talking, grab your coat and lets start walking' which is exactly what two or three of their candidates had just done."
Ruairi O'Kane said: "After conferences you would get e-mails certainly from the youth members asking you for the names of tunes.
"When Margaret Ritchie defeated Alasdair McDonnell for the leadership we used an Obama song 'Battlecry' by Chantelle. Unfortunately the tune we never got to use was the one to be used if Alasdair had won, which was 'You Can Call Me Al' by Paul Simon.
According to Billy Bragg, the ultimate fear is having the wrong kind of politician endorse your music.
"One morning, I was doing the Andrew Marr programme sitting in the green room and Alistair Darling came in. He says to me 'Are you still gigging, Billy?' so I said to him 'Yeah, are you still Chancellor of the Exchequer Alastair' and he looked at me a bit quizzical and went off to make-up.
"And then the next thing the door opens and in walks George Osborne and as soon as he sees me he goes 'Billy Bragg - I was 21 years when I wrote this song' and I thought, 'This is a nightmare'."