Lithuanian court to rule on RIRA case against Michael Campbell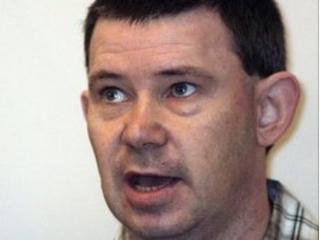 A judge in Lithuania is due to deliver his verdict in the case of a Dundalk man accused of trying to buy guns and bombs for the Real IRA.
Michael Campbell, 38, from Dundalk, was arrested in 2008 after a surveillance operation in Vilnius.
He denies all the charges and claims the gun-running plot was manufactured by MI5.
His brother Liam Campbell was one of four men found liable for the Omagh bomb in a recent civil action.
Michael Campbell was arrested after an international surveillance operation involving MI5, Irish and Lithuanian intelligence services.
He went on trial two years ago, accused of attempting to smuggle arms for the Real IRA.
Mr Campbell told the court he did travel to the Baltic state to buy weapons, but did not intend to use them to arm republican paramilitaries.
Prosecutors claim Mr Campbell, a convicted cigarette smuggler, paid undercover Lithuanian agents 10,000 euros (£8,646) to buy weapons, including a sniper rifle, detonators, timers and high explosives.
They say he intended to smuggle them out of the country.
Mr Campbell's brother, Liam Campbell, is a convicted member of the Real IRA.
Weapons
He was also found liable in a civil trial of involvement in the Omagh bomb of 1998 in which 29 people were killed.
Prosecutors alleged that Michael Campbell was acting on the orders of his brother to bring the weapons back to Ireland.
Mr Campbell told the court that he had been "provoked" by an MI5 agent to come to Lithuania to buy weapons in 2008.
He said he wanted to acquire weapons because they were in demand by criminals and were "a much better business than cigarettes".
Mr Campbell is also charged with providing support for a terrorist organisation.
He said he could not recall discussing the use of explosives against police cars and armoured vehicles with undercover Lithuanian agents.
Part of the trial was held in private to protect the identity of British and Lithuanian agents who gave evidence.
He denies being a member of the Real IRA.
If found guilty, Michael Campbell could face up to 16 years in prison.