Political reaction to Spotlight programme on Police Ombudsman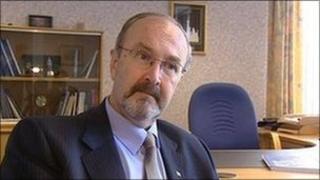 The former chief executive of the Police Ombudsman's office has called for Al Hutchinson to leave his post immediately. He made the call in a BBC Spotlight programme which also uncovered failings in a number of investigations by the ombudsman.
Basil McCrea, Ulster Unionist MLA
"The issue about whether Al Hutchinson stays or goes is irrelevant
"The decision is that he is going and that we're going to have to do something different.
"The reason why he has to stay on is because there's many other functions that his office has to carry out in the meantime and we need somebody in place.
"But when you look at the bigger question about can we look to the office of the ombudsman to investigate the past, to these highly contentious issues, I have to say that I do not think that is recoverable.
"It is clear to me now that there is nothing that we can do with that office that will actually restore confidence to the way that it was originally envisaged perhaps 10 years ago."
Alex Attwood, SDLP MLA
"The Police Ombudsman's office - if it was free of interference, if it was free from political meddling, if it was free to get on with its job in the way that it did before, then confidence in that office could be restored.
"I am sending out a big health warning that those who are now gathering to undo the concept and the work of the Police Ombudsman's office will be gathering to undo the work of policing change, transformation and Patten, which we struggled so long to achieve and which has so well served the people of the north.
"Given all the questions that are now more and more arising about the past, let those who want truth and accountability gather themselves and create mechanisms to do it."
Jeffrey Donaldson, DUP MP
"The ombudsman's office has a role to play in contemporary policing and I think that we need to look at how their involvement in historical cases is actually damaging public confidence in the ombudsman's office.
"Therefore it would be better to remove responsibility for reviewing historical cases from the ombudsman's office and let them concentrate on current cases."
Gerry Kelly, Sinn Fein MLA
"He absolutely needs to go. The longer he stays, the more he contaminates this office.
"He has already done enough damage to it and I know that this sounds almost personal, but it is absolutely not personal, the problem is and he said it himself, this man is the wrong man to sort things out here."