Dominic Bradley sanctioned by speaker after Irish row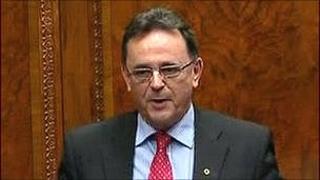 Stormont Speaker William Hay has told the SDLP's Dominic Bradley he will not be called to speak in the assembly chamber for some time.
He accused the MLA of launching a "vicious challenge" on the authority of one of the deputy speakers.
Mr Bradley clashed with the UUP's Roy Beggs, after Mr Beggs said the Newry and Armagh MLA had been talking for too long without asking a question.
Mr Beggs asked Mr Bradley to hurry up.
Mr Bradley replied that he had been asking a question when he had been interrupted.
He continued to speak in Irish after being asked to sit down by Mr Beggs, and at one point said he was "challenging the chair".
Mr Hay's response is similar to the action taken against the TUV leader Jim Allister last month.