Labour has new man in Northern Ireland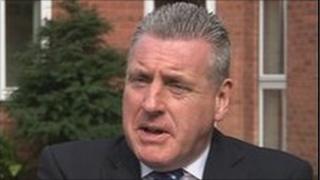 Nottinghamshire MP Vernon Coaker is the new shadow Northern Ireland secretary, replacing Shaun Woodward who is no longer in the shadow cabinet.
Labour's new man in Northern Ireland supports Spurs and the north London team might provide him with some inspiration.
The club's latin motto is Audere est Facere.
It translates as 'To Dare Is to Do' and is a phrase that could apply to Mr Coaker's new task. To many he is a new name and now has the responsibility to come up with fresh ideas.
People in Northern Ireland may not have heard of the MP, but he is well-known in political circles.
The father-of-two entered parliament in 1997 and is a familiar face in the tea-rooms and cafes in the Palace of Westminster.
He held a number of ministerial posts during Labour's 13-year reign of power.
He was minister of state for policing and perhaps appropriately for a former teacher, was a schools minister.
However, it was his time as a Labour whip with responsibility for Northern Ireland business in the Commons that brought him into contact with many of our local politicians.
Foyle MP Mark Durkan had many dealings with him when the Labour government tried to push through the Northern Ireland Offences Bill in 2005, which dealt with the controversial issue of paramilitary 'on the runs'.
The planned legislation was eventually withdrawn.
Mr Durkan said he came up against Vernon Coaker in debates and when the bill failed the Labour whip "took it very gracefully".
He said the Nottinghamshire MP is "very direct in his dealings and very amiable". The SDLP man said he "won't have much of a learning curve".
Vernon Coaker has replaced his colleague Shaun Woodward, who was Labour's Northern Ireland spokesman and before that secretary of state until May 2010.
Labour recently voted to scrap shadow cabinet elections, giving party leader Ed Miliband a free hand over who to appoint.
Prior to last week's party conference, Labour's front bench in opposition was elected every two years, but the Labour leader is now able to choose the members himself.
What is apparent is that Shaun Woodward's departure will not be mourned by his political opponents.
The Labour MP defected from the Tories in December 1999 and although his former colleagues in the Conservative Party will not comment publically about his departure, one Tory source told the BBC "few tears will be shed for him".
However, the DUP deputy leader Nigel Dodds paid tribute to Mr Woodward.
"Mr Woodward leaves the position of shadow secretary of state with devolution firmly established and he helped play a role in achieving that outcome," he said.
The MP for St Helens returns to the Labour back benches.
'Not a whisper'
North Down MP Lady Hermon said she was surprised that Mr Woodward had been replaced.
She told BBC News, "there wasn't a whisper that he was going".
She said she was very surprised at his departure but said his successor was "thoughtful".
She said during his days as a whip, Mr Coaker had "always made a genuine effort to keep MPs from Northern Ireland informed about parliamentary matters".
Sammy Wilson is another local politician who has had dealings with Mr Coaker during his days as a parliamentary whip.
The DUP East Antrim MP said the appointment was "good news for Northern Ireland".
He was complimentary about Mr Coaker's personal approach and said he had "a good sense of humour" and "always found him to be very fair".
Labour's new man has much in his 'in-tray' to get to grips with.
There is the ongoing debate about reducing corporation tax in Northern Ireland - a proposal Mr Woodward had strong reservations about.
He will have to quickly understand the detailed financial arguments .
His experience of policing and his days in the Home Office may help him with our security problems.
However he will have to be careful that he doesn't try to recommend solutions that have succeeded in Great Britain, but may require more work in Northern Ireland.
There is also the whole issue of how to deal with the legacy of the past.
The new Labour spokesman must be mindful that there is not a political consensus about how a truth and reconciliation process should be handled.
This area more than most will require an ability to listen and learn during his early days.
As Mr Coaker begins his role in Northern Ireland he will be allowed some time to read his way into his new brief.
However political honeymoons don't last long and he knows that soon he will be judged by results.
But then as a Spurs fan he knows all about that.