Scam accused Francois de Dietrich seeks to overturn sentence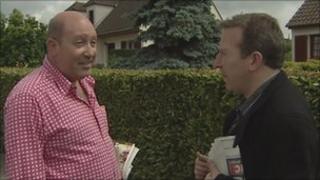 A man suspected of a multi-million pound scam will try to overturn a jail sentence by claiming an order to fully disclose all his assets was draconian.
On Thursday, fugitive Francois de Dietrich was given a date in January for his appeal against an 18-month term imposed on him for contempt of court.
With a warrant out for his arrest, he was last seen in France.
People on both sides of the Irish border fear they may have lost millions in investments in liquidated stock.
Members of the business community, sporting figures and even travellers are thought to have handed over money to de Dietrich.
Court proceedings launched by the Financial Services Authority led to an injunction banning de Dietrich and his company ETIC Solutions from taking any more deposits.
The regulatory body also obtained an initial order freezing more than £20m in assets linked to the businessman.
De Dietrich, a Frenchman formerly based in County Donegal, was then held to be in contempt of an order to disclose his global financial affairs in full to the FSA.
He is now preparing to contest that finding on the basis that there is no allegation of wrong-doing outside of Northern Ireland and the Republic of Ireland.
'Excessively draconian'
It will be contended that he has complied with requirements to reveal all his business interests on both sides of the order.
On that basis his legal team are expected to argue that imprisoning him was an excessively draconian outcome.
De Dietrich has denied any fraudulent behaviour and, in a statement through his lawyers, claimed to operate legitimate businesses which have been unable to trade due to the legal action.
The Court of Appeal was told on Thursday that his challenge has been listed for a one-day hearing on 9 January.