Red Hot Chili Peppers headline MTV awards in Belfast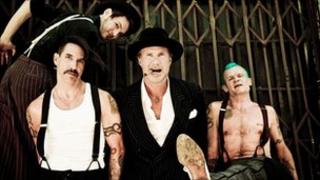 Grammy award-winning rock band Red Hot Chili Peppers are to headline MTV's Europe Music Awards in Belfast's Odyssey arena next month.
The United States broadcaster has also announced that two other locations in the city will be used simultaneously.
The news comes as Belfast City Council justified an extra payment of £200,000 towards the cost of staging the awards.
The council and the NI Tourist Board have already contributed almost £900,000 towards the event.
MTV said a £213,535 shortfall would jeopardise events leading up to its Europe Music Awards.
The council said the investment would generate "in excess of £10m".
'Unmissable'
A council spokeswoman said: "Belfast City Council and NITB can confirm that they have contributed a total of £870,000 (BCC £420,000 NITB £450,000) to the staging of the MTV EMAs in Belfast, including an additional £200,000 (£100,000 each) that has just been agreed.
"This will be used to enhance the plans for 6 November to showcase Belfast across the world into 600 million homes, which is an unmissable opportunity given the major events coming up in 2012.
"The financial commitment from BCC and NITB will generate in excess of £10m of economic activity through visitors and the level of investment MTV are making in Belfast as part of the show."
A spokesperson for Red Hot Chili Peppers said: "We haven't played in Belfast in a long time, so we're really looking forward to performing at the '2011 MTV EMA' and seeing all our fans."
A host of international celebrities are expected in Belfast for one of the world's most prestigious music events.
MTV said that for the first time, its Europe Music Awards would be presented from three locations throughout Belfast.
The Odyssey Arena is to serve as the main stage, with the two other locations in the city to be announced in the coming weeks.
Leading nominees for the Europe Music Awards include Lady Gaga, Katy Perry and Bruno Mars.
Other nominees include Adele, Justin Bieber and Thirty Seconds To Mars.
The show will be broadcast live from the Odyssey arena on MTV on Sunday, 6 November.