First of Republic's 'ghost estates' demolished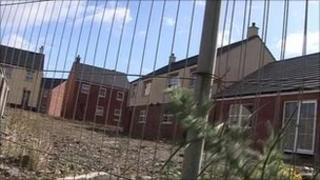 The first demolition of one of the Republic of Ireland's 'ghost estates' appears to have taken place.
The half-built and unoccupied housing developments are the most obvious sign of the Republic's financial crisis.
The Mullingar Advertiser has reported that three almost complete bungalows in the village of Ballingore have been knocked down.
An official government report estimates that there are 120,000 homes in ghost estates.
Of these, 77,000 were completed and occupied, while 33,000 were completed and vacant or nearly completed. Around 10,000 others are in early stages of construction.
It is likely that a large number of these houses will eventually have to be demolished.
Westmeath County Council is believed to have knocked down the development in Ballingore.
The paper said that had the development been completed it would have doubled the size of the tiny village.
Before and after pictures of the development have been published on the authoritative Namawinelake blog.
An official government estimate, published in 2010, put the number of ghost estates at more 2,800.