Selective memories of Martin McGuinness and Gusty Spence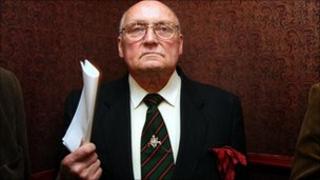 Martin McGuinness accuses the media of being obsessed with his past. Glancing at this weekend's Dublin editions of the newspapers you can see why.
The Irish Mail on Sunday's front page was dominated by a picture of the body of IRA informer Frank Hegarty and an interview with Mr Hegarty's sisters accusing Mr McGuinness of involvement in luring their loved one to his death - a claim the Sinn Fein politician denies.
The Sunday Times quoted former Garda commissioner Pat Byrne as expressing the view that Mr McGuinness had been a key figure in the IRA into the 1990s, describing his insistence he left in 1974 as lacking credibility.
The Sunday Independent carried four of five opinion pieces, all sceptical about the McGuinness candidacy, under the sub-heading "you need to vote with your eyes open".
The McGuinness retort is that other historic Irish figures had a past steeped in physical force republicanism and the Sinn Fein politician's candidacy in the Irish Presidential race is about the present and the future.
I haven't heard anyone quote David Trimble, but the former Ulster Unionist leader's old saying that just because someone has a past doesn't mean they can't have a future comes to mind.
However even Martin McGuinness's supporters aren't asking the Irish electorate to forget about everything their man has done in the past. Otherwise he would be a candidate without any credentials.
Instead, they want the voters to concentrate on his more recent past - brokering the IRA ceasefire, negotiating the Good Friday Agreement, chuckling with Ian Paisley, hob-nobbing with Barack Obama. Those are the images the candidate wants to stick in people's minds when he talks about his positive, progressive message and track record as a unifier of unionism and nationalism.
The question of which elements of someone's past should outweigh others has featured strongly in the weekend assessments of the veteran loyalist Gusty Spence.
There's no doubt - despite questions about his conviction for the murder of Catholic barman Peter Ward - that Gusty Spence was a founder member of the loyalist UVF back in the 1960s.
There's also no doubt he played a crucial role in encouraging loyalism to pursue a peace strategy in the 1990s - a role symbolised in his 1994 expression of "abject and true remorse" to the innocent victims of loyalist violence.
Peacemakers
I talked to the acting PUP leader Hugh Smyth on "Inside Politics" and found him keen to pay tribute to Gusty Spence's track record as a peacemaker, but reluctant to dwell on his more distant past as a UVF leader.
Councillor Smyth was also not forthcoming on the more recent split between the veteran Spence and the UVF's Shankill Road leadership over the murder of Bobby Moffett.
If Gusty Spence had not counselled loyalists to follow suit when the IRA announced its ceasefire in 1994 then the course of political history might have run in a very different direction.
In this regard the tributes paid over the weekend are well earned. However his victims must not be forgotten - something the grand-daughter of Matilda Gould ensured when she gave a chilling account to the BBC of how a petrol bomb attack carried out by Spence's gang in the 1960s burnt her grand-mother "to a cinder" . No wonder the Gould family say they feel mad when they hear reports putting the former UVF leader on a pedestal.
There have been peacemakers in Ireland - John Hume, Mairead Corrigan, Alex Reid or Harold Good to name just a few - who have done their level best to stop further bloodshed without themselves having any blood on their hands. However their moral authority had its limitations, and the 1990s ceasefires wouldn't have happened unless those who were once men of war had decided to give peace a chance.
In 2009 I made a programme for BBC Radio 4 called "Peace Work" which followed the efforts of Martin McGuinness to export the lessons of the Northern Ireland process to other conflict areas, such as Iraq.
The leading light behind the conflict resolution initiative, the Boston Professor Padraig O'Malley, told me that "there is no better negotiator to deal with people who have killed, than to put a negotiator on the opposite side of the table who himself has killed or ordered other people to kill".
So for some peacemakers, first hand knowledge of political violence is an essential element in their curriculum vitae. Whether it qualifies you to be head of the Irish state, is something only the voters can decide.