DNA on Maire Rankin's chin 'a match to Karen Walsh'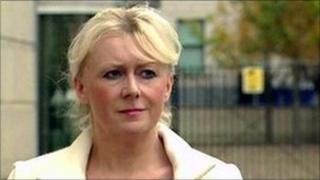 A DNA expert has told a murder trial the chances of DNA on the victim's chin coming from someone other than the alleged killer is one in a billion.
Maire Rankin, 81, was found beaten to death in her Newry home on Christmas Day 2008. Her neighbour, Karen Walsh, 45, denies her murder.
Giving evidence at the trial on Monday was forensic biologist Sue Woodroffe.
She said DNA taken from Mrs Rankin's chin provided a full DNA match for Ms Walsh.
The crown claims she used a crucifix to beat Mrs Rankin to death at her Dublin Road home.
Ms Woodroffe told Belfast Crown Court that DNA which could have come from the accused was also found on the pensioner's breasts and on the bottom of the crucifix.
Cross-examined by Peter Irvine for the defence, Ms Woodroffe said she did not agree that because the samples were partial matches "the results were meaningless or inconclusive".
She did accept that the traces were so small that they could have ended up in those places indirectly.
And she said that while the DNA from Karen Walsh on Maire Rankin's chin was a result of a direct transfer, as the defence suggested in the course of an embrace or kiss, it might also have been passed in the course of friction or rubbing between them.
Fingerprint evidence
Earlier a fingerprint specialist gave evidence that there'd been no prints from the accused on the alleged murder weapon.
John Brown said neither had any prints been found on two phones and on a back door key from the murdered pensioner's home.
Earlier, another forensic specialist said he "completely disagreed" with a defence contention that an object other than the crucifix could have produced the bruising and abrasions on the victim's chin.
Defence barrister Peter Irvine put it to William Armstrong that the mark could have been caused by a nebuliser mask Mrs Rankin used to help with her breathing.
Mr Armstrong, a chemist and principal scientific officer with the Forensic Science Service, said tests he had done had produced "strong evidence" that the wound had been caused by the figure of Jesus.
The crown claims Karen Walsh is the killer and that she made a number of frantic calls from Maire Rankin's house on the morning of the killing. The digits dialled closely matched her husband's mobile and business numbers, but the area codes were wrong.
The case continues.