Remarkable year for new deputy first minister John O'Dowd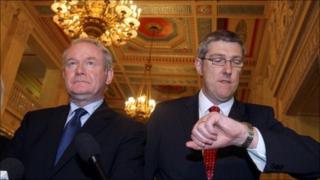 A short drive from Lurgan town centre takes you to the Stables bar and restaurant.
Most days in the kitchen 29-year-old chef Liam McEvoy can be found preparing meals for customers.
When it is busy he and his colleagues have little time for small talk but when they get a break there is only one subject of conversation - the success of their former workmate John O'Dowd.
The Sinn Fein MLA who is now standing in as deputy first minister worked as head chef at the restaurant before he became a full time politician.
He trained Liam McEvoy and taught him how to prepare vegetables when Mr McEvoy was a teenager.
Mr O'Dowd's protege is grateful for the Sinn Fein man's guidance.
He told the BBC: "John was very enthusiastic and was very professional."
However, it is clear head chef O'Dowd was quite capable of giving out orders.
Mr McEvoy remembered: "He wasn't afraid to shout at you. He kept you in line."
Born in Banbridge, John O'Dowd's political career began at Craigavon Borough Council where he led the Sinn Fein group.
In 2003, he became an MLA for Upper Bann and this year he was appointed education minister after the assembly elections in May.
Portadown Times journalist Victor Gordon has had numerous dealings with the Sinn Fein man and he described his political rise as "meteoric".
He said the MLA was well regarded and a "very personable politician who is a good communicator".
Mr O'Dowd's work as education minister has brought him into contact with politicians from across all parties and the teaching unions.
Ulster Unionist MLA Basil McCrea said the new deputy first minister was regarded as a shrewd political operator.
The UUP politician told the BBC: "John is used by Sinn Fein as a trouble-shooter and he can put a view across and is articulate when on his brief."
For John O'Dowd this appointment marks a remarkable year.
Four months ago the 44-year-old was seen by some political commentators as an MLA to watch.
Now he has two ministerial jobs to add to his political CV.
He joined Sinn Fein because he "wanted to make change" and said the defining political moment of his life was the 1981 hunger strikes.
Asked about his political hero he recalls the life of Sheena Campbell, a republican activist who was murdered as she drank with friends in the bar of the York Hotel in south Belfast.
A Sinn Fein office in Lurgan is named after the late Queen's University student.
Married with two children, John O'Dowd said he has little time for anything outside family life or his political duties.
If he gets a chance, he relaxes by watching gaelic football and said he has been enjoying Ireland's performances in the rugby World Cup.
An avid reader, he enjoys films and when time permits would watch his favourite movie 'The Quiet Man'.
A big fan of the radio he often ends his day by listening to Cherie McIlwaine's show on BBC Radio Ulster.
For Mr O'Dowd the last few weeks have certainly been dramatic.
When he was asked to stand in for Martin McGuinness he said he "stood back" for a moment to think about what was being proposed.
He knows that if his Sinn Fein colleague is unsuccessful in his bid for the Irish presidency this new role will be temporary.
For the time being he is happy to 'double job ' and try and deal with the two roles of education minister and deputy first minister.
This week as the man from Upper Bann settled into his new office in Stormont I asked him if he thought being deputy first minister would be harder than being a chef?.
He laughed at my question and replied: "Ask me that in six weeks.".
He then added: "Many's a time I am standing in the assembly or in front of the education committee when I say to myself perhaps I should be back in the kitchen."
He is not being serious.
The new man at Peter Robinson's shoulder has made a career change and so far it has worked.
He now has a bigger profile but knows that any mistakes that happen on his watch will be magnified.
Clearly he hopes that his past has prepared him for life at the top table of politics.