Programme to showcase life of former SDLP leader Hume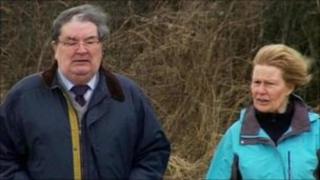 Viewers will get an insight into the life of former SDLP leader John Hume in a new documentary airing on Monday night.
Below the Radar's hour-long programme traces him from the poverty of his early days to the signing of the historic Belfast/Good Friday Agreement.
Mr Hume is seen as a key architect of the Northern Ireland Peace Process.
He was awarded the Nobel Peace Prize in 1998 alongside David Trimble.
The one-hour biographical documentary will include interviews with a range of contributors including senior Irish diplomats, former Prime Ministers John Major and Tony Blair, Bono, George Mitchell and Irish President Mary McAleese.
This film will also highlight Mr Hume's role in leading the civil rights movement, his involvement in helping to establish credit unions in Northern Ireland and his friendship with American politicians and presidents.
It will hear from those both inside and outside the SDLP who were critical of his actions when it became public that he was speaking to Gerry Adams while the IRA was still engaged in its terrorist campaign.
Hume is on BBC One Northern Ireland, Monday, 19 September at 10.35pm.