Sinn Fein calls for Irish constitution change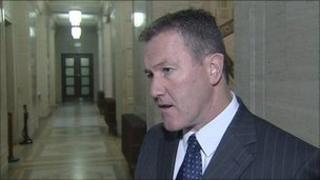 A Sinn Fein MP has called on the Irish government to change the constitution to allow people in NI to vote in the Republic's presidential election.
Conor Murphy said that despite being permitted to hold Irish citizenship, people in Northern Ireland would be "disenfranchised" in the October poll.
Sinn Fein's Martin McGuinness is the bookmakers' third favourite to win the presidential election next month.
It is thought unlikely the constitution would be changed in time for the poll.
Mr Murphy was attending an event in Newry where Latvian citizens were voting in their country's parliamentary elections.
His colleague Mickey Brady MLA also called for a change in the constitution.
He added: "As an Irish citizen I deeply resent the fact that I cannot vote in the upcoming elections particularly as it is increasingly likely that my colleague Martin McGuinness will be in the running."
A former IRA commander, Mr McGuinness has been Deputy First Minister in Northern Ireland since 2007.
Earlier this year, Sinn Fein won 14 seats in the Irish parliament, Dail Eireann - its strongest performance in the modern era.
Fine Gael's Gay Mitchell, Special Olympics boss Mary Davis, businessman Sean Gallagher and Labour's Michael D Higgins of Labour, have already put their names forward for the October election.