NI designer Caroline McCall wins Emmy for Downton Abbey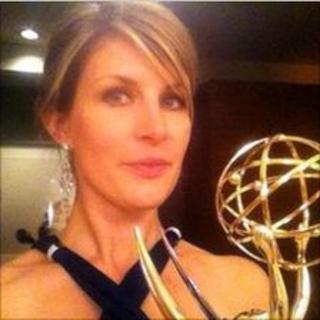 Imagine landing your dream job. Now imagine winning an Emmy Award for it.
For most of us, that's just wishful thinking. But the fantasy has become a reality for one Portadown woman.
On Saturday Caroline McCall picked up an Emmy at a star-studded bash in LA for her work as assistant costume designer on the ITV show Downton Abbey.
"It was just fantastic to be invited and you don't think when you're working on British drama that it is ever going to be recognised by Hollywood," she said.
"I had no idea Downton Abbey was so popular in America."
The period drama, starring Maggie Smith, follows the lives of the wealthy Crawley family and their servants during the reign of King George V.
Along with a stellar cast and sprawling countryside sets, the appeal of the show lies in the authentic attire worn by its main stars.
Along with chief designer Susannah Buxton, Caroline is responsible for creating corsets, petticoats and tunics fit for an early 20th-century aristocrat.
"It can be pretty tough and stressful at times and obviously the costumes play a large part," she said.
"But it's got a fantastic cast and script, so you are never short of motivation."
Victory
Caroline started off her career at art college in Belfast before moving to the Wimbledon School of Art. She then trained with the BBC.
"I have been very lucky to make great contacts and I've done some lovely jobs along the way.
"But period costume is what I have always loved. So to work on a prime time costume drama was the job of a dream as a child," Caroline added.
"Sometimes I have to pinch myself. Sometimes you can't believe it.
"I did think that on Saturday. I thought I can't quite believe I am here and this is happening."
Caroline's success could be followed by another Northern Ireland victory this weekend at the second Creative Arts Emmys ceremony in LA.
Mark Huffam is nominated under the Outstanding Drama Series category for Game of Thrones as executive producer.
He began his career working on local election programmes and has gone on to work on productions such as Mamma Mia, Saving Private Ryan and Captain Corelli's Mandolin.
Mark was responsible for bringing the production of the fantasy series to Northern Ireland. It is one of the largest television series ever to be shot outside the US.