9/11 service held in Belfast to remember attacks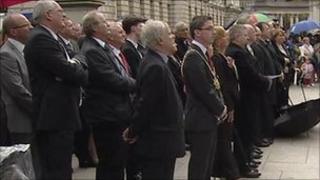 A remembrance service for those who died 10 years ago in the 9/11 attacks on the US has taken place in Belfast.
It was held on the front lawn of the City Hall.
A one minute silence was observed at 13:46 BST to mark the time of the first plane crashing into the World Trade Centre's North Tower.
The service honoured those working for the emergency services and remembered all 2,977 victims of the attacks in New York, Virginia and Pennsylvania.
Relatives of victims and survivors of the attack were there to pay their respects.
Louise Traynor from County Armagh had been working on the 101 floor in the South Tower when the first plane hit the neighbouring tower.
She managed to survive and had a message for those who had lost a family member in the attacks.
"For anyone who lost their life that day, people I knew and people that I didn't - just for their families I would like to pay tribute and that they will never be forgotten by those who were and those who weren't there," she said.
A video message from Edward Kilduff, chief of the Fire Department of New York (FDNY), was also played.
In it he said he wanted to thank "our friends" in Northern Ireland for "your support".
"It was a difficult and tragic time for us, but we always knew that we could count on your prayers and support," he added.
'Generosity'
"The strong determination and generosity of the people of Belfast and Northern Ireland truly came through.
"We hope that everybody has a prayerful day of remembrance as we will here in New York city.
"We will look forward to continuing our relationship."
The Mayor of New York City, Michael Bloomberg has written to thank the people of Belfast for their support and sympathy.
It his letter, Mr Bloomberg spoke of opening the memorial at the site of the World Trade Center.
"Given how many of those we lost that day had connections to your land, it seems only fitting that the memorial stands just one block away from the Irish hunger memorial," he said.
"Together, they will forever remind us of how indebted our city is to those who trace their roots to your shores."
The US Consul General in Belfast, Kamala Lakhdhir delivered Mayor Bloomberg's letter to Belfast.
"The letter acknowledges the tremendous ties and connections between Belfast and New York," she said.
"It talks about how this is a day to pay tribute to all those who were lost and honour their lives but also to find inspiration in the memories of what happened, the heroism of the day and that in a spiritive unity this brings Belfast and New York together."
Belfast Lord Mayor Niall O Donnghaile was among those paying tribute and said the day recognised the strong links between Belfast and New York.
"I think there was a mixture in terms of the mood," he said.
"There was a period of reflection as obviously it was a time to commemorate those people who lost their lives on September 11, but as well as that, it was about celebrating their lives."