30% of NI householders face negative equity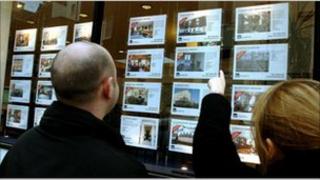 Nearly a third of people with mortgages in NI could owe more than the value of their homes if the property market keeps falling, a new survey suggests.
NI property prices dropped by 40%-50% since their peak four years ago, but they could have further to fall.
Financial outsourcing specialists HML said that would put many more home owners into negative equity.
An further fall of 10 %, which isn't unlikely, could mean 93,000 borrowers face loans bigger than the home value.
That is 30% of all mortgage holders.
HML's chief finance officer Neil Warman said: "This analysis show just how vulnerable UK households are to a continuing fall in house prices.
"Since their peak before the onset of the credit crunch, house prices have fallen by nearly 18% and, although there is considerable variation in future forecasts, a number of analysts are saying we need to brace ourselves for further falls."
The news comes as Northern Bank sought to downplay reports that it was promoting 100% mortgages to first time buyers.
The bank said it had always offered loans of up to 100% of the house value but that these were only available in very particular circumstances.