Patsy McGlone and Alasdair McDonnell for SDLP leadership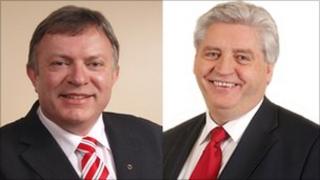 Two contenders have emerged for the leadership of the SDLP following leader Margaret Ritchie's announcement that she will step down later this year.
Deputy leader Patsy McGlone has confirmed his intention to run for the position, while South Belfast MP Alasdair McDonnell has said he will make a formal decision next week.
Mr McGlone said he was "confident" he would win the leadership challenge.
"I would not have put my name forward otherwise," he added.
"People within the party know me and it is for me to present my skills to those people."
Mr McGlone admitted the SDLP had taken a "battering" during May's elections. He said his aim as leader was to "get more votes and more representatives to do the job the SDLP is good at".
Margaret Ritchie announced on Thursday evening that she would be stepping down.
Her leadership had been under considerable pressure since the party's poor election results.
Announcing the decision, she said she did not feel it was possible to be an MP, an MLA and lead a political party.
Both Dr McDonnell and Mr McGlone paid tribute to Ms Ritchie, describing her as a dedicated and hard-working politician.
Dr McDonnell also said he was involved in "serious discussions" about a possible leadership bid.
"If I feel that the party wants my agenda and the party is in sync with the radical ideas that I have to change the party and move it into the 21st century - and put it back to winning elections - then I will decide to go (for it) and that decision will be in some days time," he added.
He said the race was "not about personalities, but about product, result, and putting a healthy SDLP back on the stage"
"We haven't gone away if I could quote a leader of a rival party," Dr McDonnell added.
'Friend'
Ms Ritchie was elected leader in January 2010, beating Dr McDonnell in a two-horse race.
Patsy McGlone said he supported Dr McDonnell during that challenge, but he would not be drawn on whether or not he expected the same support in return when the next vote takes place in November.
He described Dr McDonnell as a "good friend", adding: "He is very much his own man and he will make his own mind up."
Mr McGlone also hinted that if he was elected leader, he would be interested in taking over from the current SDLP Environment Minister Alex Atwood at the executive table.
"I think any politician who is ambitious, who feels they have a lot to bring, would want to sit at that table," he added.
When Mr McGlone's challenge was first reported, Ms Ritchie said she was prepared to take on all challengers.
She said she had now reflected on that position and would also be standing down as an MLA.
"I would also assure those from South Down and throughout the north who have given me great support and encouragement that I will continue to serve the SDLP and work towards the renewal of the party and the completion of the work I have set in motion," Ms Ritchie said.
"We have had outstanding successes and I want to ensure that this work is built upon."