Rev David Latimer: History will judge Sinn Fein speech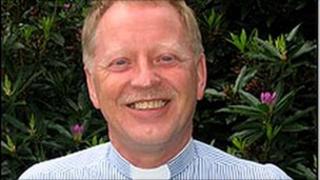 A Presbyterian minister has said history would judge his decision to give a special address at the annual Sinn Fein conference in Belfast.
The Reverend David Latimer from First Derry Presbyterian Church is the first Presbyterian minister to be invited to speak at Sinn Fein's ard fheis.
He was invited by Martin McGuinness, with whom he said, he had a "very real friendship".
DUP East Londonderry MP Gregory Campbell asked why he had been invited.
"Reverend Latimer needs to say what he has to say, let's hear the transcript and read it. More importantly, why are Sinn Fein asking the Reverend Latimer to come?" he asked.
"Is this part of a strategic outreach to unionists? People will make a judgement on that."
However, Dr Latimer said "God might judge [him] very unfavourably" if he were to refuse to speak at the conference on Friday.
"I would like people within a wider audience to hear first hand the difference that moving outside your own comfort zone of isolation and poor relations can in effect make," he said.
"I think I would be judged very unfavourably by God... if I were to refuse to go and engage with any other group of people.
"I have a very real friendship with Martin McGuinness. I identified the humanity of the man and he identified my humanity and we have built up a relationship as two human beings," he said.
Mr Latimer said there were no objections within his congregation to his invitation.
The deputy first minister, Mr McGuinness, was involved in securing executive funding for the restoration of First Derry Presbyterian Church.
Mr McGuinness was also amongst guests at the re-opening of the church in May.