'D-day' for future of NI universities, says Queen's professor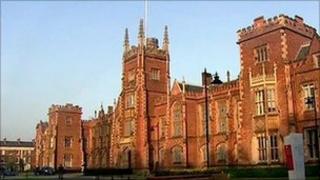 The pro-vice chancellor at Queen's University in Belfast has said it is "D-day" for the future of Northern Ireland universities.
Professor Tony Gallagher said decisions had to be reached as to the future level of fees.
He has also said that the current uncertainty could not be allowed to continue.
The issue of Northern Ireland students' fees will be discussed at Thursday's Executive meeting.
Mr Gallagher has made a last-minute plea to the first and deputy first ministers to ensure the future of higher education is secured for all students.
"Just weeks from (students) having to decide which university they would like to attend, they have no idea about the level of fees they will pay, what financial support will be available to them, or whether they will be forced out of a higher education place by increased competition from English students," he said.
Mr Gallagher described local universities as being in a "perilous position" due to plans to cut budgets by £28m and the prospect of a further £40m cut.
"Decisions on the appropriate funding of higher education are urgently required if our universities are not to be damaged beyond repair, if thousands of jobs are not to be put in jeopardy and if our students are not to be hugely disadvantaged," he added.
Speaking to Evening Extra, Employment Minister Stephen Farry explained that he was unsure if the issue would arise on Thursday as agendas such as these were often "put together at the last minute".
"We have a paper that has been tabled into the system, we are into discussions with the Department of Finance around the matter and it will be interesting to see if it will be tabled on Thursday," he said.
£40m black hole
BBC NI Political Editor Mark Devenport said sources at the Department of Employment and Learning felt this was a matter of urgency.
"What is still uncertain is whether it will be formally tabled in terms of the agenda and whether a decision will be taken.
"That is not because there is an awful lot of debate about the likely level of fees in the future.
"The first and deputy first ministers went on the record and said it was going to be around the current rate with just an increase for inflation... about the £3,500 mark," he said.
"The big hold-up is that that leaves what is estimated to be a £40m black hole in the Department of Education and Learning.
"The haggle really between the ministers is how they make up that money - with the Department of Finance saying that it should - with the exception of the Department of Health - be sliced off the top of every other department's budgets.
"Some of the other ministers are saying they are not sure about that."