Meteorite hunt for Irish stargazers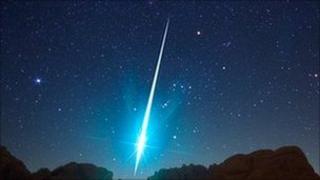 Stargazers across Ireland are on the hunt for a meteorite that could have landed earlier this month.
Astronomy Ireland has received several reports of a fireball blazing across the skies over the west of Ireland on the night of Monday 22 August.
Experts believe it struck earth in Sligo, but it could have landed in one of the surrounding counties.
Fragments of one meteorite that hit Ireland in 1999 sold at 50 times the then price of gold.
Astronomy Ireland has urged anyone who saw the meteorite fall or hitting the ground to get in touch on their website so they can best assess where it might be found.
Chairman David Moore wants to make sure any potential evidence is not missed.
"Most people who saw it won't tell us and that is who will stop us finding it," he said.
"According to our preliminary analysis, any meteorite that dropped most likely fell on Sligo or the surrounding counties."
Estimates suggest one meteorite a year hits Ireland but none have been located since 1999.
Demand for fragments of that rock was huge due to the rarity of Irish meteorites and because it proved to be the last recorded of the second millennium.
But Mr Moore and his colleagues actually believe many more rocks have reached Ireland from space in the intervening years.
"We think one meteorite a year falls in Ireland but they fall during the day, on cloudy and overcast nights and they are not seen," he explained.
"That's why this is such a good chance to discover this one and we would urge people who saw anything to contact us."
Reports of any sightings can be logged at astronomy.ie/fireball