Len Ganley: Snooker referee with stardust on his gloves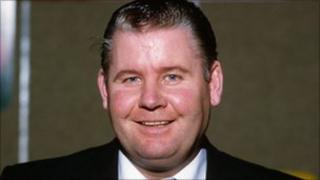 He went from sweeping chimneys in County Armagh to brushing the green baize at the world's biggest snooker tournaments, but Len Ganley's incorrigible smile was never far from his lips.
If his Northern Ireland counterpart Alex Higgins was the man who revolutionised snooker playing, Ganley certainly changed the public's view of the cloistered environment of refereeing.
The Lurgan native, who officiated at four world finals, could lighten the mood of the most intense battle with an arched eyebrow or a whispered aside.
His cult status was officially confirmed when the Merseyside post-punk band Half Man Half Biscuit penned a song about him, The Len Ganley Stance.
The rotund referee was a familiar face to millions as snooker merged with showbiz in the late 1970s.
One media critic described it as "Coronation Street with balls" and as 1985 snooker world champion Dennis Taylor explained, Ganley was a character who deserved his own top billing.
"Len was one of the great characters in the game of snooker, we travelled all over the world together and no matter where we travelled, he was known as big Len," he said.
"They took to him everywhere and with his lovely Northern Ireland accent he used to be very popular with snooker fans all over the world.
"He was probably the best-known snooker referee we have had.
"I always got on well with Len and there was only one time I remember losing my temper with him.
"We were heading away on a flight to Thailand for a tournament and I was dressed up in my best suit.
"Len had five or six glasses of orange juice and he dropped one over my lovely suit, but we soon made up."
Ganley could empathise with players, having been one himself, alongside jobs as a bus conductor and milkman.
'Crushing cue ball'
He only took up refereeing following an encounter with Ray Reardon who suggested he assume the role after he hushed an over-excited crowd as the Welshman compiled a century break.
Ganley's affinity with the professionals could be seen when he hugged Stephen Hendry and Ronnie O'Sullivan following their maximum breaks of 147.
By then he had gained notoriety with a television advertisement for a leading lager which saw him crushing a cue ball to dust in the company of snooker players John Spencer and Terry Griffiths.
Taylor said the tough exterior delivered for that cameo was far removed from the bubbly personality who raised thousands of pounds for charity.
"Len did a terrific amount for charity," he said.
"During the world championship anyone who came anywhere near the Crucible Theatre and saw Len had to give him a tenner.
"He used to raise a lot of money for the powered wheelchairs, our snooker golf society used to supply a lot of powered wheelchairs for the handicapped children and Len was at the forefront.
"He would compere the likes of the Howard Keel Golf Classic and Len was in his element introducing these Hollywood stars like Jack Lemmon.
"He was one of the good guys and nobody has got a bad word to say about him."
Ganley retired from snooker in 1999, having received an MBE for his services to the game and charity five years earlier.
He had returned to Northern Ireland by the time of his passing at the weekend, and Belfast Telegraph Sports Editor Jim Gracey reflected on the terrible irony that the man who had raised thousands of pounds for others was robbed of a lifetime's memorabilia in a burglary at his house earlier this year.
The journalist also recalled that even in his younger days Ganley was able to sprinkle his own brand of stardust on proceedings.
"He was a very decent man," he added.
"My early memories of Len as a kid are that he used to be a chimney sweep in Lurgan and he was a showman even back then.
"He used to turn up at people's weddings because of this thing about the chimney sweep bringing luck.
"You would have seen his picture in the local paper the Lurgan Mail way back in the 1960s bringing luck to the wedding."