Prayers for Kathy Dinsmore and Marion Graham in Turkey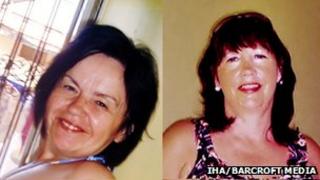 Prayers have been said in churches in the Turkish city of Izmir for the two County Down women murdered there on Thursday.
Marion Graham and her friend Kathy Dinsmore, both in their 50s and from Newry, were stabbed to death in a wood near the city.
The boyfriend of Ms Graham's daughter Shannon has appeared in court over the murders.
The women's families hope to fly their bodies home by the middle of next week.
Shannon's father, Raymond McGuinness and Ms Graham's son David arrived in Izmir on Saturday.
Mr McGuinness said the identification process had been completed and his 15-year-old daughter was now his "main concern".
The Dinsmore family are expected to travel to Turkey in the coming days.
Confessed
Prayers have been offered for the two women in Izmir on Sunday. Bishop of Dromore John McAreavey said they will also be remembered at services across their native diocese this weekend.
The suspect, Recep Cetin, also known as Alex, works at a restaurant in the popular tourist resort of Kusadasi. He was orginally reported to be 17-years-old, but Turkish police confirmed there was now doubt over his age.
It is alleged that he confessed to killing Ms Graham and Ms Dinsmore, after being refused permission to marry Shannon.
He appeared at a preliminary hearing in Turkey on Friday evening and is currently being detained at Izmir prison.
The first full court hearing is expected on Monday.
The suspect is alleged to have taken Ms Dinsmore and Ms Graham to a secluded wooded area and murdered them there.
The friends were on holiday Kusadasi, about 100km from Izmir.
Shannon was on a boat trip when the killings happened. She alerted police when she arrived home and could not get in touch with her mother.