BT cable theft sees services cut near Clonmore, Tyrone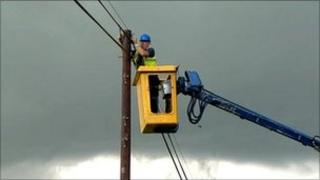 Up to 200 homes in south Tyrone have been left without phone services after hundreds of metres of cable was stolen.
About 600 metres of cable is believed to have been cut down and stolen in the early hours of Wednesday by thieves targeting the copper in it.
BT said significant damage has been caused to two major cables at the junction of the Tamnamore Road and the Clonmore Road, near Clonmore village.
It said it hoped to complete repairs on Thursday night or Friday morning.
The company added that its security department was investigating the incident and major underground repair work was in progress.
It added that engineers would remain on site until full service is restored to all those affected.
BBC Northern Ireland's Gordon Adair said the thieves appeared to be after the copper in the cable.
"Copper really is a precious commodity at the minute and it appears these people will go to extraordinary lengths to get their hands on it," he said.
He said the area affected was rural and as a result the loss of phone and especially internet services was particularly tough for businesses.
Fore example, he said the local supermarket had been unable to process card transactions.