Micheal O Muircheartaigh considers Irish presidency run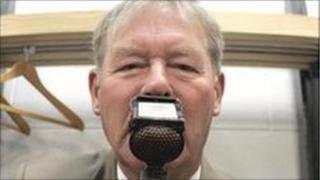 Former GAA commentator Micheal O Muircheartaigh is the latest celebrity to be linked to the Irish presidency.
Last week, veteran RTE broadcaster Gay Byrne said he would not run as a candidate, despite a poll indicating he would be the most popular choice.
Speaking on RTE radio on Tuesday, Mr O Muircheartaigh said he had not yet decided if he would run but would make a decision by the end of next week.
"What's really gotten to me is the vast surge of support from people," he said.
He said he has been approached on the matter by politicians in recent months and had also gained support from people in the business community.
However, he said he would stand as an independent candidate if he was to join the race.
Mr O Muircheartaigh, who turns 81 next week, said: "I will consider it but it's a vast question, I haven't done any preparation, I have no campaign strategy.
"I have promises of support and all that and definitely between now and the end of next week I'll come to a decision one way or another.'
Mr O Muircheartaigh said he will have to consult with members of his family before making a decision, and many of them are abroad at the moment.
He said people should be aware of his age were he to run and he did not think it was an impediment.
"Retiring from one thing doesn't mean you sit down and take no part in anything," he said.
"I think people should remain active as long as they like and should remain in employment as long as they feel they have something to offer."
Mr O Muircheartaigh commentated on his last All-Ireland gaelic football final in September.
He made his RTE debut in 1949 with an Irish language commentary on the Railway Cup final.