Brian Kerr IFA comments 'disgraceful' - McElduff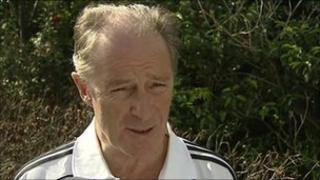 A Sinn Fein MLA has criticised comments made by former Republic of Ireland manager Brian Kerr about the player eligibility issue.
A number of players born in NI have opted to declare for the Republic of Ireland team in recent years.
Brian Kerr said when he was ROI manager from 2003 to 2005, he "did not make it easy" for players to switch.
Barry McElduff described the remarks as "disgraceful" and an attempt to deny the rights of Irish citizens.
Brian Kerr made his remarks to the Irish News ahead of a game between the Faroe Islands, his current side, and Northern Ireland on Wednesday.
"I know some of the northern players have an identity with the Republic because of the communities they're living in. I think, over time, that can change," he said.
"But I don't think the Republic should be taking advantage of the Belfast Agreement to the extent they're using it in football as a way of recruiting players."
He added that he had never sought to exploit the situation despite being boss of several Irish national youth teams prior to his elevation to coach of the senior team.
"I inherited one or two and one or two came after that but we didn't make it easy for them.
"We did, in fact, tell some players that they would be better off not playing for us because they were unlikely to get to the top level."
Among the high-profile players to make the switch from Northern Ireland under-age teams to the Republic senior squad are Manchester United midfielder Darron Gibson and Stoke City's Marc Wilson.
James McClean made a similar switch in the run-up to Northern Ireland's game with the Faroes on Wednesday.
The governing body of football in Northern Ireland, the Irish Football Association, has repeatedly argued that allowing anyone born on the island of Ireland to play for the Republic is unfair.
It challenged the rule at the Court of Arbitration in Sport last year but the court upheld the status quo.
Mr McElduff said it was a "fundamental right secured under the terms of the Good Friday Agreement".
"Brian Kerr nor anyone else has the right to undermine these hard-won rights," he added.
"Irish citizens in the north of our country are no less Irish than those citizens in the rest of the country.
"Brian Kerr's admission says more about his sense of Irishness than that of the young men who assert their right to play for the team of their choice."