Magilligan ex-chaplain Macaulay on child images charges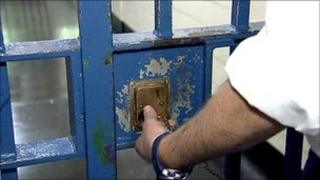 A former Methodist Church minister who was a chaplain at Magilligan Jail is facing child pornography charges, it has emerged.
William Alan Macaulay, 51, from Balnamore appeared in court in Coleraine on 3 August.
He was charged with making and possessing an indecent photograph or pseudo-photograph of children.
A Methodist Church spokesperson confirmed on Tuesday that Mr Macaulay had resigned as a minister.
He has also left his position as a youth coach at one of Northern Ireland's top ladies' hockey teams, Ballymoney.
Mr Macaulay from Ballynacree Drive did not enter a formal plea at the hearing at North Antrim Magistrates' Court.
He was released on £500 bail to return to Coleraine Courthouse on 31 August.
The charges date between 23 April 2010 and 10 November 2010.
A spokesman for the Methodist Church in Ireland said Mr Macaulay had quit his position as a minister and had not acted as the chaplain to prisoners at Magilligan since November 2010.
"During the time of the investigation into the allegations against Mr Macaulay the Methodist Church, along with Mr Macaulay, has co-operated fully with all the investigating authorities," the statement added.
"We would ask that Mr Macaulay and his family be given privacy during this difficult time and invite others to join with us in upholding them in our prayers."
Mr Macaulay was well known as a youth coach at Ballymoney Hockey Club, but also left that position in November 2010.
"He was never responsible for children on his own and worked as part of a large team," a club spokesperson said.
"We are not in a position to comment on these allegations as they are still the subject of legal proceedings."
Under bail conditions Mr Macaulay must not have contact with anyone under the age of 18 years, except in the presence of that child's parents or guardians.