News organisations must hand over riot footage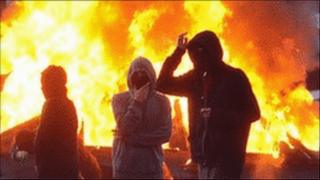 News organisations must hand over to police all unseen footage of last month's rioting in Belfast.
Judge Piers Grant ruled that the unbroadcast and unedited material should be disclosed.
He said there was a strong chance it could help identify troublemakers and secure convictions.
Lawyers for broadcasters had opposed the PSNI application arguing it could heighten the risk to the safety of camera crews and reporters.
They argued that journalists could be seen to be police evidence gatherers and hamper their ability to do their job.
Police had sought footage and photographs from broadcasters and news agencies of the violence in parts of north and west Belfast on 11, 12 and 13 July.
Hijacked vehicles were set on fire and thousands of pounds worth of damage was caused to property during the rioting.
More than 40 officers were injured as mobs attacked police lines with petrol bombs and other missiles.
The case centred on competing claims between the public interest in convicting the troublemakers and the threat to the freedom of the press.
Successful prosecutions
A detective sergeant in charge of coordinating evidence gathering told Belfast County Court that the requested unbroadcast footage was likely to be of substantial value.
Material released by the media following a similar application after disorder last summer was said to be crucial in 15 successful prosecutions.
Ruling on the application, Judge Grant rejected claims that it was just "a fishing expedition" by police.
He said: "There is an absolutely legitimate public interest in the detection of crime, the apprehension of those engaged in crime and the charging and sentencing of those involved in it.
"By doing it the public receive a substantial degree of protection."
The judge pointed out that there was no evidence of an increased threat to journalists following previous disclosure of similar footage.
He added: "I'm satisfied in all the circumstance that there is a strong likelihood that good material which would identify and has the potential to identify those engaged in these very serious and dangerous activities... that material is likely to be in existence.
"In the circumstances I order the disclosure of the material sought in the application."
In a statement, the BBC said it was disappointed by the ruling.
"Our challenge to the police application for unbroadcast material was to ensure the independence and safety of our camera crews and reporters whilst covering public disorder - often under difficult circumstances."