NI house sales rise, but prices drop new survey says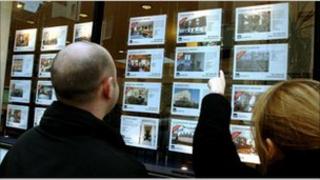 The number of housing transactions in Northern Ireland has risen for a second quarter according to a new study.
But the latest University of Ulster Quarterly House Price Index shows the value of the average house is down more than 15% on last year.
The number of transactions between April and June rose to 1,062 compared to 925 in the first quarter of 2011.
However, the report said properties "are tending to sell below the asking price".
It said the market varied considerably across Northern Ireland, with lower price declines and evidence of stability in some areas within Belfast and Lisburn.
Levels of sales in provincial areas were significantly lower and pricing there remained "more volatile".
There has also been a weighted price decline of 2.4% in Northern Ireland in the second quarter compared to the first three months of 2011.
South Belfast remained the strongest area in terms of price with an average house value of £217,631, while north Belfast had the lowest average of £93,162.
Compared to the second quarter of last year, detached houses in Northern Ireland have fallen by 23%, terraced/townhouses by 18%, detached bungalows by 16% and semi-detached bungalows by 11.8%.
Apartments have fallen by 11.8% and semi-detached houses saw the lowest rate of annual decline, down by 8.2%.
Alan Bridle, UK economist at the Bank of Ireland, said that although the market "still faces into significant headwinds in 2011" there was now more tangible evidence of "demand at the right price".
He said this represented "some improvement on the very difficult conditions of the last few years".
The Housing Executive's head of research, Joe Frey, said the higher volume of transactions during the second quarter of 2011 was good news, but it was important to be cautious.
"The full effects of the public expenditure cuts, including significant reductions in housing benefit expenditure, have yet to be felt," he said.
"The reduction in purchasing power that will result from these is bound to impact negatively on the market."