Translink safety campaign highlights rail dangers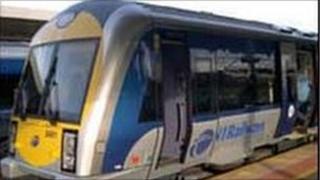 NI transport company, Translink and the police have launched a new safety campaign highlighting the dangers of "messing around" near railway lines.
Last year, 121 people were prosecuted for safety related incidents and were fined a total of £13,000.
In summer time, with schools closed, trespassing at railway lines rises significantly, Translink said.
Their response is a campaign called Deadline, aimed at creating awareness at the dangers posed by railway tracks.
"Safety continues to be a priority for Translink which is why we are running the Deadline campaign," said Lynda Shannon, communication manager.
"Many young people are oblivious to the very real dangers of 'messing around' near railway tracks.
"They are putting themselves and the lives of other rail users at severe risk without thinking of the consequences of their actions."
Risk
The company has said CCTV footage is helping identify offenders.
Footage released by Translink includes a clip where a group of young friends cross tracks - one of them avoids being hit by a train by a matter of seconds.
In just two months last summer Translink found 114 situations where pedestrians put themselves at risk.
Translink's Ian Morrow said: "I think a lot of young people just don't really appreciate the risks.
"We have a lot of new trains out running now. We're testing the latest trains that we have just received, they're running in between our time table trains at speeds of 90 mph.
"They run quite quietly as well, so you can't hear them coming, so we think that children, particularly, don't appreciate how dangerous this environment is."
The campaign is also aimed at motorists, warning them not to jump lights or try to beat barrier crossings.
Translink is currently testing Class 4,000 trains which travel at speeds of up 90 mph.